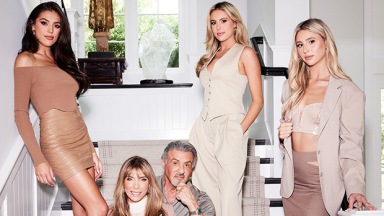 Sylvester Stallone and Jennifer Flavin's youngest daughter, Scarlet Stallone, moved away from home during the May 24 episode of The Family Stallone. It was the first time Scarlet was leaving home for good, so the family hosted a goodbye lunch at their new Palm Beach, Florida house. Unfortunately, Sly had to head back to the set of Tulsa King in Tulsa, Oklahoma the next day, so he wouldn't be present to help Scarlet move into her first apartment. Her mom and two sisters, Sistine and Sophia, made up for his absence though.
Jennifer, Sistine and Sophia cleaned Scarlet's apartment and made sure she was set up with at least a mattress before they went on their way. But just after leaving Scarlet's new home, Jennifer told her other two daughters that she was feeling down over becoming an "empty-nester". Her identity for the last two to three decades has revolved around being a mother, but now she has to find other ways to keep herself busy. Does she like to play tennis? Does she like to play golf? Or would she be into deep sea fishing? Jennifer said she had no idea so she asked Sistine and Sophia to go deep sea diving with her so she could see if she liked it and learn more about herself.
There's no place like Stallone ⭐️ Step into their world and see @TheSlyStallone, and his leading ladies – Jennifer, @SophiaStallone, Sistine and @ScarletStallone like never before! #TheFamilyStallone is now streaming, exclusively on #ParamountPlus. pic.twitter.com/njcmmdppqn

— Paramount+ (@paramountplus) May 17, 2023
While fishing, Jennifer and her daughters actually caught a fish two to three times the size of them, and they were freaking out. Jennifer even jumped in the water to get in a photo with the fish, and later, she told her daughters that it was a metaphor for life — even when you're scared, you should always jump in and if life get tough, you just need to keep on swimming to get through it.
Meanwhile, Scarlet was busy getting comfortable in her new setting. And since she was back at school with her old boyfriend, Joe, who she hopes to start dating again, she decided to hang out with him. He took her to look at alligators, and she tried flirting with him so he would for sure know that she was into him again. It's unclear whether they're dating again or not, but Scarlet said they broke up because she was in LA and he was in Miami, but now that she's back in school in Florida, nothing is really keeping them apart.
Anyway, just like Jennifer, Sly got emotional over Scarlet's move — especially because his shooting schedule on Tulsa King conflicted with Scarlet's big move. He told his co-star, Garrett Hedlund, that he's hoping the show will start shooting in California next season so he can be closer to his family when they're at their LA house. But that's not a guarantee, so as soon as he was able to, Sly surprised Scarlet and flew to Florida to go see her new apartment. Scarlet, who's now a sophomore, showed him around, and then, they grabbed some acai bowls together. He tried asking her about Joe, but Scarlet changed the subject by saying she was going to make the most of her college experience. They smiled, laughed and made the most of their short time together.
Want more? New episodes of The Family Stallone premiere on Paramount+ every Wednesday at 3am ET.
Click to Subscribe to Get Our Free HollywoodLife Daily Newsletter to get the hottest celeb news.